When Kanga Coachlines first started in the 1980s, it was all about self-drive hires. From these humble beginnings for the South Australian based operator, the Fuso Rosa quickly became a popular part of its 15 bus self-hire fleet.
"Back in the early days we were only doing self-driving services and the Rosas were extremely well-liked," Kanga Coachlines CEO and owner Julian 'Jules' Roeger told ABC.
"Everyone wanted to hire them because they had extra capacity with seats compared to other mini-bus models. The Rosas quickly became a staple to our self-drive success."
The original Kanga Hire soon became an extension of a trailer hire business in Al's Trailer, with the pair merging to become Kanga Coachlines. Nowadays, the operator has grown, turning its 15 bus fleet into around 70. Ever since those foundation years, the Rosa has been critical to its success.
Roeger is now at the helm of an expanding enterprise, with Kanga Coachlines having made acquisitions in recent years to ensure it grew post-COVID. When the operator was first starting to move away from its self-drive roots in the late 20th century, its mini-bus fleet was shared between Rosas and Toyota Coasters.
It was the steady seating configuration of the Rosa that soon won out as Kanga Coachlines went down a pathway that would lead to a fruitful partnership that is still ongoing with Fuso and salesman Brenton Chambers.
"The Coasters and Rosas used to both be part of our fleet, but Coasters dropped the seating capacities and had less models available, so we went with the bigger option in the Rosa," he says.
"We've since only tried to buy new Rosas as we've had a good run with them and love the product."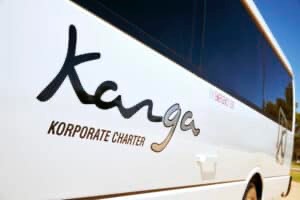 In the years that have followed, Kanga Coachlines has moved its identity from the self-drive hire side to the flourishing charter sector. This process began in the early '90s when Kanga successfully acquired a government disability run. In no time, its fleet doubled in size and a thriving operation began to take shape.
When this expansion started, Kanga Coachlines hunted for new vehicles to add to its mini-bus fleet. At the time, there was a large pool of Rosas available from Fuso, with short delivery times and the availability of the model ensuring Kanga used the Rosa to grow in its initial phase as an operator.
"It's still the same case today, the Rosas remain a very accessible model for us," Roeger says.
"We'd have around 25 Rosas in our fleet, which is the most we have of one particular model.
"Kanga has a variety of all different types of vehicles ranging from Volvos to King Longs, but the Rosa makes up a third of our fleet."
When asked to pinpoint the key reason behind Kanga Coachlines' love for the Rosa, Roeger can't pick just one. He says the model has always been easy to drive and remained simple in its design.
Despite the odd issue over the years, Roeger has always received efficient help from Fuso to get buses back out on the roads quickly. Ranging from the older models to the latest generation that came out in the past year, Roeger has them all and loves the way the newest round of Rosas look while completing charter services.
"We continue to buy Rosas because they continue to deliver for us as an operator," he says.
"We wouldn't keep buying them if they weren't ideal for us. I like the way the model looks, the new generation looks very smart and is corporate looking, while the driver usability is perfect for our needs."
Despite the successful growth that Kanga Coachlines has had in recent decades, it hasn't been an easy transition for Roeger and his team. After being synonymous as a self-drive hire company for so many years, the operator found it difficult to back away from clients and friendships it had made throughout that time.
It took the Rosa's popularity on charter runs and successful acquisitions for Kanga Coachlines to eventually turn its back on self-drive and instead open its eyes to the possibilities of the South Australian charter landscape.
"We felt an obligation to continue serving people we'd been dealing with for 30 years," Roeger says.
"When we got busier, we began acquiring charter operators, but it was hard to stop doing self-drive services.
"Through the Rosa's popularity, it got to the point where we couldn't do that anymore, so we decided to go with charter and buy more Rosas."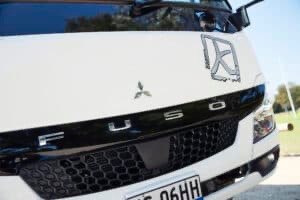 The decision soon paid off as Kanga Coachlines became a force at its small depot located just five minutes from the Adelaide CBD. For 20 years it ran charter services from the space before moving location to Mawson Lakes in a move that saw Kanga Coachlines explode as a popular operator.
Kanga began its acquisition journey then, buying seniors travel club Eureka Tours before acquiring Farnham Roadlines. With this began an interesting tale of one Rosa that could never stay far away from Roeger's hands.
"We had bought a brand new Rosa in 2012 and sold it to Farnhams," he says.
"When we then acquired Farnhams, we also got the Rosa back before I sold it to Adelaide Star Bus.
"Then, 18 months ago, we ended up acquiring them, so we got the Rosa back. I've just sold it again, meaning I've bought and sold this Rosa five times."
This 2012 model has done nearly 500,000kms and Roeger says it still looks brand new. Outside of these acquisitions, Kanga has also picked up Corston Coaches 18 months ago while it also just took over charter group Explorer Coachlines in Adelaide.
Roeger says the main selling point that has held Kanga Coachlines in good stead has been its focus on good quality mini-buses and vehicles. He says the Rosa has been crucial to this focus on a quality fleet that provides great services for customers.
"In all honesty, our fleet has been uniform and any large fleet benefits from the uniformity of its vehicles," he says.
"Being able to have so many of the same vehicles means drivers don't have to familiarise themselves with four or five different models.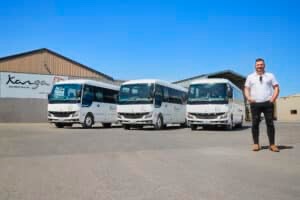 "The Rosa has been so reliable and it hasn't changed much in design. This means we can have a 10-year-old Rosa work in the same way as a brand new one, helping us when it comes to flexible rostering."
Although Roeger has enjoyed the consistent nature of the Rosa, Fuso has been working hard behind the scenes to make important updates. The latest generation Rosa now features the most advanced safety features to ever appear in the Australian light duty bus class, including Advanced Emergency Braking, a Lane Departure Warning System as standard and an Electronic Stability Program.
The Rosa also has the only Advanced Emergency Braking autonomous radar at its level in its class, providing an updated option to the popular model.
"These buses carry our most precious cargo, whether it be on school runs or nursing home day trips, so it's imperative that fleet operators consider these safety features," Daimler Truck and Bus Australia president and CEO Daniel Whitehead says.
"There is only one light duty bus in Australia with this level of Advanced Emergency Braking, only one with Lane Departure Warning and only one with Electronic Stability, and that is the new Fuso Rosa.
"There are many other benefits introduced by the upgraded model, but nothing as important as the features that will help protect the ones we love."
Significant upgrades to the Rosa's interior results in a new-look dashboard that is both practical and stylish, including a passenger side airbag, a new climate control display and new key control switches.
Available in standard and deluxe trim levels and with either 25 or 22 seat configurations, the Rosa Roeger has grown to love is staying true to its identity.
The plan for Kanga Coachlines is to continue growing as a major Adelaide operator.
With more and more services planned for Roeger and his team, he is ready to take on more of his beloved Rosas when the opportunity presents itself.
"We've got a deal with the local Fuso dealership that when they get more Rosas in, we'll be notified," he says.
"We recently took delivery of six more in the last few months, with four more planned to be delivered by the end of this year.
"Our reputation for quality vehicles means we have a long list of clients happy to take on our older models, so we'll be able to soon move them on and replenish our fleet with new generation Rosas."
STORY WITH THANKS TO ABC MAGAZINE